Therm-a-Rest is proud to partner with organizations dedicated to protecting access to natural areas, helping people connect with the environment, and sustainably managing recreational use areas to make the outdoors a better place to play.
OUR U.S. PARTNERS
---

The Access Fund
The Access Fund is the national advocacy organization that protects America's climbing through a broad range of access, education, stewardship and policy initiatives. The organization includes the Access Fund-Jeep Conservation Team, four specialists who travel 10 months of the year to help local communities work on trail projects and develop long-term stewardship plans to sustainably manage their climbing areas. Therm-a-Rest is the sleep systems sponsor of these Traveling Conservation Teams.

The Conservation Alliance
Founded in 1989, the Conservation Alliance funds grassroots environmental organizations and community-based conservation projects to protect threatened wild habitat, preferably where outdoor enthusiasts recreate. Therm-a-Rest is proud to be part of the 190-member alliance.

Veterans Expeditions
Colorado-based Veterans Expeditions is a veteran-led nonprofit that empowers veterans to overcome challenges associated with military service through outdoor training and leadership. Through leading veterans on mountaineering, ice climbing and snowshoeing expeditions in the U.S., the grassroots organization helps veterans readjust to civilian life, reconnect with fellow soldiers and leverage their skills in a healthy, natural environment. Therm-a-Rest provides support for the nonprofit's expeditions, most recently serving as a sponsor of a 27-day expedition that saw a team of military veterans summit Denali on June 15, 2015.

Big City Mountaineers
Big City Mountaineers transform the lives of at-risk urban youth by introducing them to the outdoors through wilderness expeditions. These expeditions teach youth, ages 13 to 18 years old, critical skills that help them realize their potential. Therm-a-Rest provides both monetary and product support for the BCM's weekend expeditions and overnight programs. We are also a sponsor for BCM's Summit For Someone charity climbs, which benefit their mission to help at-risk youth.
Our European Partners
---

European Outdoor Conservation
The European Outdoor Conservation is a not-for profit association made up of over 120 companies operating within the outdoor industry. The EOC supports valuable conservation work by raising funds from within the European Outdoor sector and promoting care and respect for wild places.

European Outdoor Group
The European Outdoor Group is an association that represents the common interests of the European outdoor industry. The EOG closely cooperates with national outdoor associations and undertakes projects for the benefit of the whole outdoor sector, from in-depth market research and industry events, to the promotion of responsible industry practices.
Therm-a-Rest Ambassador
---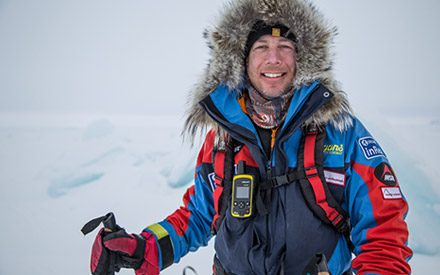 Eric Larsen
Polar adventurer, expedition guide and dog musher Eric Larsen has completed more polar expeditions than any other American in history and traveled to some of the most remote and wild places left on earth. Included in his long list of accomplishments are the first ever summer expedition to the North Pole; a world record expedition to the South Pole, North Pole and top of Mt. Everest within a 365-day period; and the American unsupported North Pole expedition speed record for traveling from northern Ellesmere Island to the Geographic North Pole. He shares his great love for the outdoor world with others through motivational and educational lectures. In recognition of his role as an educator, Eric was elected as one of Outside Magazine's Eco All Stars in 2008. Learn more about Eric on Instagram, Facebook and his website.