History
Three guys, a gardening pad and the quest for a better night's rest under the stars.
"We got started because I wanted a better sleeping pad," says John Burroughs, co-founder of Therm-a-Rest®. As an experienced mountaineer, John knew that the thin, closed-cell foam pads of the early 70's left a giant opportunity for the creation of something that offered a better night's rest, resulting in more productive days in the mountains.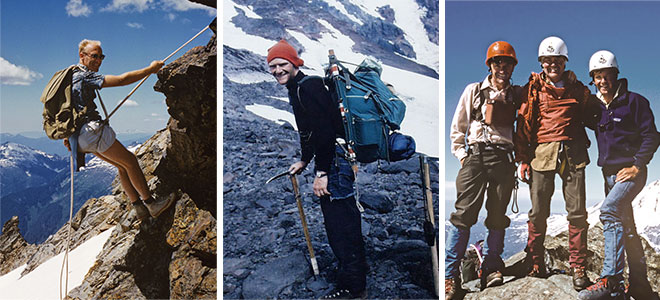 Left to right: Jim Lea; John Burroughs on Mount Adams in the early 70's; John, Tex and David Burroughs in 1985
At the time, John was an engineer at the Boeing aerospace corporation. His two friends, co-founders Jim Lea and Neil Anderson, had just lost their jobs in the now-legendary Boeing layoffs that brought Seattle to an economic standstill in the late 60's and early 70's. As a project, John suggested that Neil and Jim focus on designing the more lightweight, comfortable and durable sleeping pad of their dreams.
The "Ah-Ha!" moment struck Jim one day while gardening. As he shifted his weight on his foam ground cushion, he heard air escaping from within the pad. A deduction was made that if open-cell foam could be secured in an airtight chamber, a valve could control internal air pressure. The combination of foam and air would protect and thermally insulate campers, keeping them warm and comfortable; plus, the tendency of open-cell foam to rebound would allow a compressed pad to self-inflate.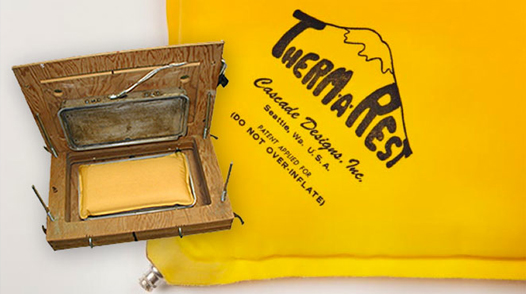 The original press used to make the first prototype mattresses and the original Therm-a-rest production mattresses from 1972.
A year and much field-testing later, they had reached a design that offered far superior comfort and performance than anything that had existed before. John dubbed it the "Therm-a-Rest". Cascade Designs, Inc. was started as the company to sell it, a patent application was filed and, by 1972, the Therm-a-Rest self-inflating mattress was on its trajectory to revolutionizing outdoor comfort. It would become an integral piece of gear for millions of outdoor enthusiasts around the world.
In response to European demand, 1985 brought the opening of our Midleton, Ireland production and distribution facility. This addition of an "in-market" hub allowed us to efficiently meet the needs of a rapidly growing customer base, while also maintaining the exceptional quality and customer service that allow us to stand behind every Therm-a-Rest product with a warranty that's second to none.
By 1986, "Therm-a-Rest" had become a household name to adventurers around the world. In that same year, we came full circle to revisit the old closed-cell pad that spurred our founders into action and came up with the RidgeRest® pad. Its thermally formed peaks and valleys turned this foam pad into something special. So special in fact that it, and the more compact Z Lite™ pad introduced in 1989, remain staples in gear closets throughout the world.
In 1994, with a nod to the future, we introduced the world's first-ever integration of sleeping pad and sleeping bag. Though the idea was ahead of its time, we would spend many years refining the concept, culminating in our current offering of system-based sleeping bags and blankets.
Through the turn of the century, ongoing technological innovations like die-cut foams, pressure-mapping, outdoor seating, and the first women's-specific air pads kept a now 30-year-old company at the forefront of innovation. Simultaneously, some humbling recognition began to flow in. In addition to over 18 top-level independent product awards, we were the first of two brands awarded Backpacker Magazine's Editor's Choice Gold Award. Their readers also voted the Therm-a-Rest self-inflating air pad as one of the five best outdoor inventions of all time, while Outside Magazine added it to an impressive list titled "The Most Influential Gear of All-Time".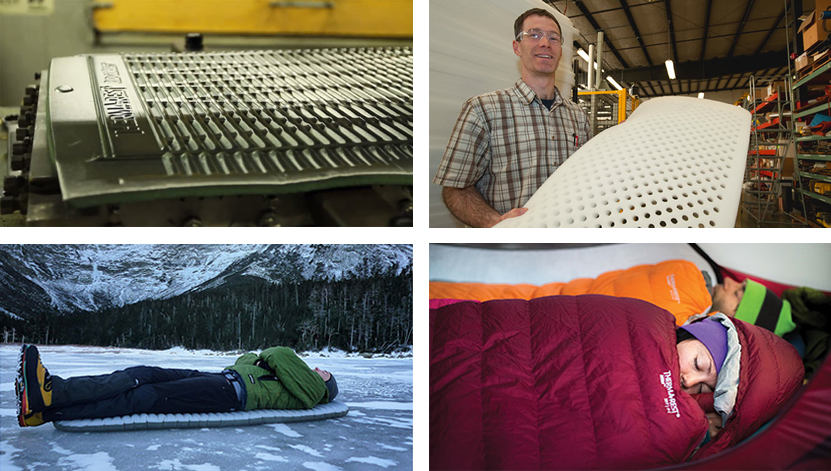 With an insatiable drive to innovate, we released the NeoAir® insulated air pad in 2009 - the single greatest innovation in outdoor sleep comfort since the original Therm-a-Rest pad. Combining two patent-pending technologies, the NeoAir pad has been recognized with over a dozen awards and remains peerless in its ability to deliver more warmth per ounce than any other camping pad.
The 2012 acquisition of LuxuryLite® ultralight cots again allowed us to introduce a product that redefined an entire category, and the release of our new sleeping bags and blankets–integrating bag and sleeping pad into a cohesive, comfort-boosting system–are sure to do the same, with the Hyperion and Polar Ranger sleeping bags recognized with Editor's Choice Awards from Backpacker Magazine.
Today, we can confidently say that the Therm-a-Rest brand remains the worldwide leader in outdoor comfort, offering the broadest and most innovative assortment of outdoor comfort products available.
In many ways, we now operate in much the same way we did 50 years ago. Although we are bigger, we're proud to maintain a single-minded commitment to quality and innovation by designing every product from a wealth of personal experience and producing the majority of what we sell with our own hands.