The latest innovations from the trusted leader in comfort technology
Browse technologies by:

ThermaCapture™
ThermaCapture Radiant Heat Technology is a proprietary reflective coating that we apply to a range of surfaces. By reflecting radiant heat back to your body that is otherwise lost, this extremely lightweight coating turns that surface into a very efficient heat reflector, amplifying warmth without the excess weight or bulk of added, conventional insulating materials.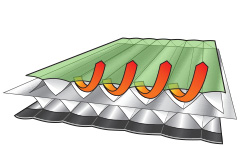 NeoAir™ Mattresses
In this patent-pending application, we vary the location and number of ThermaCapture layers within each NeoAir mattress to meet specific warmth targets. Combined with Triangular Core Matrix construction, a single ThermaCapture™ layer can boost warmth by up to 50% and creates the unmatched warmth-to-weight ratios offered by a NeoAir™ mattress.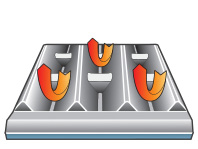 RidgeRest® and Z Lite ™ Mattresses
Here we use a simple reflective surface coating of ThermaCapture™ to amplify the effectiveness of the heat-trapping peaks and valleys of each of these mattresses. The result is a boost in warmth by up to 15% and even greater surface durability.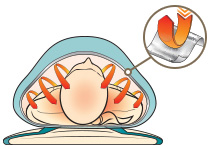 Sleeping Bags
Applied to the backside of the inner lining material of our sleeping bags, ThermaCapture not only boosts warmth without the added weight or bulk of additional fill material, creating a lighter overall bag, but it also lets you warm-up faster – a real plus on a cold night
THE GENESIS OF THE SELF-INFLATING THERM-A-REST MATTRESS